Top 4 hip-hop albums in the 90's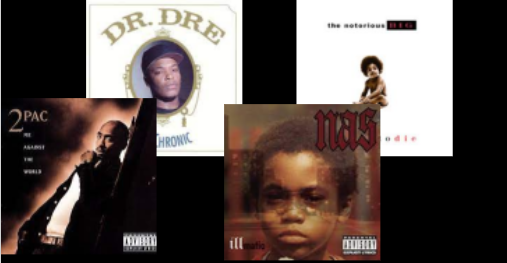 Did you know that, due to the success of Death Row Records, West Coast hip hop dominated hip hop during the early 1990s, alongside The Notorious B.I.G. on the East Coast "?" Hip hop became the best selling music genre by the mid-1990s. So now I am going to tell you the most popular hip-hop albums in the 90's.
Number 1 is Nas – Illmatic.Nasir bin Olu Dara Jones aka Nas is best known for his album Illmatic. The album was released on April 19, 1994, by Columbia Records. Did you know that
"Nas revealed he named his debut album Illmatic in dedication to a childhood friend convicted of homicide." "According to Music times, one reason why Illmatic might be the best hip-hop album of all time are the lyrics." Nas takes another route in his lyrics and gives a deeply personal and realistic perspective on life in the New York City projects during the '90s. The most popular song from the album is "The World Is Yours".
Number 2 is Dr Dre – The Chronic (1992).Did you know that the Chronic was Dr Dre's album debut and it sold over eight million copies worldwide. Surprisingly, the album peaked at number three on the Billboard 200. The most popular song from the album is "Nuthin' but a G Thang" ft.Snoop Dogg. It's been 29 years since The Chronic was first released.
Number 3 is The Notorious B.I.G. – Ready To Die (1994). "Did you know Ready To Die is the only Biggie album released in the rapper's lifetime." His second album, Life After Death, was released two weeks after he was shot and killed in March 1997. "Biggie would memorize lyrics he wrote," and would freestyle them when recording the album. The Recording Industry Association of America has certified the album 6x Platinum. It's been 27 years since its first release.
Number 4 is 2Pac -All Eyez On Me (1996). Did you know that the album was 5x certified platinum after just two months and 9x platinum after just two years. According to genius.com When Tupac was released from prison, he flew back to Los Angeles and got right to work. He arrived at Can-Am Studios at midnight and recorded both "Ambitionz Az A Ridah"—the album's opening track—and "I Ain't Mad At Cha" by sunrise. It's been 26 years since its release on February 13, 1996.
You know now what the 4 most popular albums were in the 90s. So, if you like hip-hop go and listen to these albums. I like all the albums that are on the list but my most favorite album that is on the list is Illmatic by Nas.That is all folks.