Top 5 Best Hip-Hop Record Labels of All Time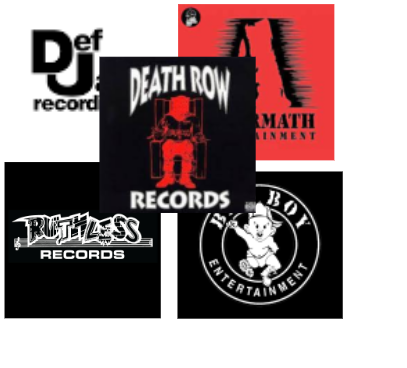 Some reasons I like hip-hop are.Hip-hop can be a way for people to talk about what they achieved in life. Also It is a good way for people to express themselves like one example is the lyrics.Tupac is a good example because in his song Dear Mama he expresses what he feels about his mom and says how she helped him when he was down.
Number 1 is Def Jam Recordings. Def Jam was founded in the year 1984 in New York .A lot of popular artists are signed to the record label like Nas, Kanye West, Jay Z, Rick Ross and many more. Also, Def Jam Recordings created the clothing fashion lines Phat Farm, Argyleculture, and Tantris. It has an estimated net worth of approximately $350 million.
Number 2 is Aftermath Entertainment Records. Dr Dre founded the record label in 1996. There are a lot of artists signed to the label like Dr. Dre, Eminem, Kendrick Lamar, Anderson .Paak and Silk Sonic, with former acts including 50 Cent, The Game, Busta Rhymes and many others. The record label is worth 800 million dollars.
Number 3 is Death Row Records. The label was founded in 1991 by The D.O.C., Dr. Dre, Suge Knight, and Dick Griffey. In 1993, Death Row records was able to generate more than $75 million dollars and released two of the biggest selling hip hop albums of all time in just a 10 month span.It was most popular in in the 90s because of the records they sold like All Eyez on Me by 2Pac,
The Don Killuminati: The 7 Day Theory by 2Pac,Doggystyle by Snoop Dogg,The Chronic by Dr Dre.Death Row Records filed for bankruptcy in 2006 but 16 years later snoop dogg bought Death Row Records and made a new album.
Number 4 is Ruthless Records.The label was founded by Eric "Eazy-E" Wright and Jerry Heller in Compton, California in 1986.Ruthless began with $7,000 of Eazy-E's own money and 5,000 12-inch copies of his single "Boyz N the Hood."This might have been true at the absolute peak of NWA's success when Ruthless Records was earning approximately $10 million per month on record sales.Eazy-E's stake in Ruthless was passed on to his wife, Tomica Wright, after his death. In his absence, however, the company's signed artists eventually departed. Ruthless Record went defunct in 2009.
Number 5 is Bad Boy Records.Some artists that are signed to the label are P Diddy,Rick ross, Machine Gun Kelly,and before his passing in 1997 The Notorious B.I.G. was signed to Bad Boy records.Bad Boy Records was founded in 1993 by P Diddy aka Sean Combs.
Since this story is about hip-hop record labels then one interesting fact about the first hip-hop record label is Singer Sylvia Robinson and her husband Joe Robinson founded Sugar Hill Records, hip-hop's first record label, in 1979 with financial backing from Morris Levy, owner of Roulette Records.