Trip to Texas!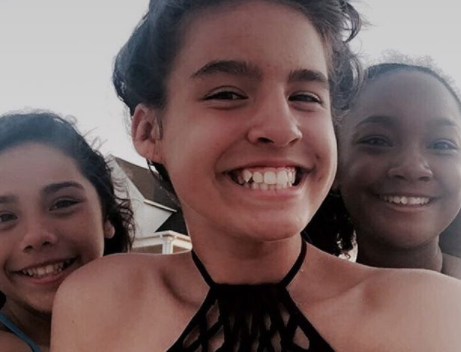 Hang on for a minute...we're trying to find some more stories you might like.
In the summer of 2017, my friends Hallie, Solé, and I were hanging out. We'd always wanted to go on vacation together, just so we could go on an adventure. We had fantasized over this for a long time. One day Hallie's mom asked if I would like to go to Texas with Solé and Hallie's family! I asked my mom and she said it was okay. A couple weeks passed and finally the day had come. I packed my suitcase and hopped in the car and we were on our way! I made a playlist that contained my favorite songs and it was close to 6 hours long. It was still not long enough to fill the entire road trip. The trip was a long 14 hours, but it felt like days! We stopped only to eat and sleep. When we woke up, we went to a cafe and ate breakfast. Right after that, we were on the road again. It took us a couple hours but we had finally got to our beach house! We went inside and unpacked. We decided we wanted to go to the beach!
When I was little I lived on an island in North Carolina and I grew up on the beach. But when my sister was born we decided to move back to Emporia. I hadn't been to the beach since, so I was pretty excited to see the ocean again. When I lived on the beach, I used to go out after school every day and boogie board. Sometimes, I would even go way out with my dad and surf for a couple hours. People say I was brave by going so far out,  but trust me I was terrified. It was worth it though. Riding all the way into the shore was like winning the gold in the Olympics.
As soon as we got to the beach Hallie, Solé, and I raced to the water. We went out really far and we found a sandbar! Even though we were really far out into the ocean, the sandbar made it to where we could stand up and our knees were out of the water! We hung out there and found a bunch of hermit crabs. We decided to go get our boogie boards from the shore because the waves were starting to get bigger and we wanted to ride the waves. We went back and found the sandbar we were on earlier and waited for a good wave. It took a while, but finally the perfect wave came. We hopped on our boogie boards and attempted to ride the wave. It was not pretty. I fell off my board, Hallie's boards fell out from under her and floated away. While all of this was happening, Solé was riding smoothly all the way to the shore. She bragged about it for what seemed like the next 20 minutes, although it was only 5 minutes. After that, we decided we could have a contest. Whoever rode the least waves had to buy the other two ice cream. We all rode the same waves and in the end, you'd never guess who rode the least waves. It was Solé! I guess that's what she gets for bragging so much. Hallie and I got our ice cream and we walked back to our beach house. Hallie was complaining because there was no wifi and she had bad cell phone reception. But a couple days into the trip she forgot about her phone and the wifi situation.
Hallie and Solé kept talking about going into Galveston. I had never been there but they had gone for the last couple of summers. On our fourth day we took a ferry into the island. We saw a group of dolphins and they were jumping and squealing. I like dolphins because of how smart they are. They are also very friendly and they have certain tactics they use to hunt. We got into the island and we walked for a couple blocks just taking in the view. Although we didn't go to the beach there because there was a lot of trash and there were a lot of jellyfish. I had never gotten stung by a jellyfish. Until that day. We were walking on the shore looking for seashells. As I was walking and not paying attention, I stepped on a washed up jellyfish's tentacles. Even if they are dead, they can still sting you. Which is something I learned while I lived in North Carolina, just for our safety. I would've known not to step on it if I was paying attention. But I wasn't. The pain was excruciating and as Hallie was walking over to see the marks the jellyfish had left, she stepped on one too! After that we were both in deep pain so we finished up our trip in Galveston and headed back to the beach house. We looked up a recipe for something to take the sting away. Finally we found a good recipe and we made the paste. Hallie and I both smeared it over our legs and feet. It felt soothing when it had finally stopped stinging. After that we were fine and we ate dinner and decided it was time to go to bed.
The next day, we braided each others hair and got in the golf cart. I'm a pretty good driver so I got to drive around on the beach for a couple hours. It was so much fun because it was just us three, riding on the beach and listening to our favorite music. We decided to stop and swim for a while. We went out really far and then a man with a fishing pole came out somewhat next to us. All of the sudden he started to pull really hard on his line. Hallie and Solé were freaking out. I just told them it was probably just a big fish. But I was completely wrong. The fisherman told us to go to the shore. After he got whatever was on his line out of water, I started to flip out. It was a small shark! It was crazy, it was swimming right around us! We touched it's skin and fins, when we were done the fisherman set it back into the ocean. We were all a little paranoid for a while after that. We stayed out of the water and watched the sunset and after that, we still drove around after the sun had gone down. I didn't want to go back to the beach house but I did also because we were all tired. That day was probably my favorite day out of our entire vacation.
A couple more days passed, and it was time to head back to boring old Kansas. I was ready to go home but I also didn't want to leave the beach. We went back to the beach one last time. We took pictures and found our final seashells. But finally, we packed up and left. The ride home was fun, we jammed out and played car games. After a long 14 hours, we arrived home. It was around 2 a.m when we got there. And I had a basketball tournament the next day, so as soon as we got into bed I was sound asleep. I made some great memories and hopefully I can go on vacation with them another year.