5 Fundamental Parts of a Computer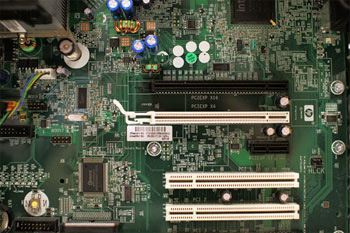 Hang on for a minute...we're trying to find some more stories you might like.
Have you ever looked at a computer or a phone and wondered how it even turns on? Well, it can get very complicated. There are a lot of components working inside the case (cover for your computer), but I will only be telling you about 5.
Motherboards are the most required part in a computer. Every electronic that you have every held has a motherboard or a circuit board in it. A motherboard is the thing that you plug everything into, the GPU, CPU, Coolants, and other things. The motherboard doesn't power anything, but it just acts as a conductor. It gives information to the rest of the computer to tell it what to do. For example, your GPU wouldn't know what to do if it only had a power supply and a monitor to connect to, it wouldn't even boot up. The motherboard can also act as a GPU. If you plug in your HDMI cable to your motherboard then you can have a GPU that would normally cost about $50.
Power Supply's are what gives your computer power. It links to everything in your computer and gives it power, as the names suggests. There are a variety of supply's that have different watts. The most common is about 800w. It just depends on how much power your computer requires. The power supply will usually be hidden under a cover or something in your case, while the cords would run through the back of your case and through holes leading to where they plug into.
A GPU is usually the most expensive part of your computer. They can range from $100 to about $3000. Your GPU determines how many pixels you can run on your monitor and how much detail you can get in textures if your gaming. Some people can use the GPUs power for editing videos or rendering different resolutions of pictures. If you are rendering 2k, 4k, or even an 8k picture you will need a very powerful GPU.
Now, with all of this power in your computer you need something to tell it what to do, this is where the CPU comes in. It is basically the brains of your computer. It is responsible for executing a series of stored instructions called a program. Some CPUs are more powerful than others. This is why certain motherboards are created for certain CPUs, most powerful ones are a lot bigger making the motherboard need a bigger socket. The more pins that a CPU has usually means the more powerful it is too. The cores are what execute programs and the more cores, the faster it is.
Coolers are very important too. Your computer might only be able to last about 2 minutes on full load without coolants or fans. Airflow in your case is very important and the more fans you have the better the air flows through your computer, cooling it. Coolers also have to go onto specific components of your computer. The CPU, GPU, PCI, and Power supply need separate coolers because of how hot they get. Most of them just have fans put inside them but some people get really fancy with their CPU and GPU coolers because they are the most heated part of your computer and needs the most care when it comes to temperature. Water, has been implemented into computers only a few years ago, and has taken cooling to a whole new level. Some computers can have water going all across it cooling different parts individually.
These would be the main parts of a running computer. We have the Motherboard, Power Supply, GPU, CPU, and your coolers. They all work together as a whole unit creating a very powerful thing that has helped society become better and has brought humanity to a whole new level.