Emporia Carnival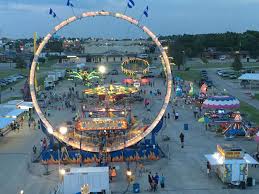 Hang on for a minute...we're trying to find some more stories you might like.
On August 13th, 2018 at the Emporia fairground there was a carnival which happens every year. Everyone goes there because of the many attractions. Is it fun? Stay tuned to find out.
The town Emporia has these fairgrounds which a lot of stuff happens there, there is a fair to sell animals but there is a carnival. there is a lot of rides and food but no animals. It is still fun. Don't believe me, read on. I am going to interview 2 people about their experiences at the carnival.
I interviewed Calvin a 12-year-old boy who lives in Emporia and goes to the Emporia carnival every year. He started talking about his favorite ride, "My favorite ride at the carnival is probably the Ring Of Fire because I love to go in a circle really fast." The ride he didn't like was the Spinning Dragons, even though he like going around in circles he does not like going that fast.
   Next, I interviewed a young man named Devin who also live in Emporia. I asked him what he experienced at the Emporia carnival. Devin stated, "I experienced a lot of puking because of the spinning rides I go on all the time." What did you eat at the carnival?  Devin stated, "I loved the cotton candy and the fresh squeezed lemonade".
I can tell that Devin and Calvin loved the Emporia carnival. Devin loved the food and Calvin loved the Ring Of Fire. They also loved hanging out with family there. So next time you drop by Emporia go to the Emporia carnival because I bet you will have the time of your life.