Mr. Bazaan's Farewell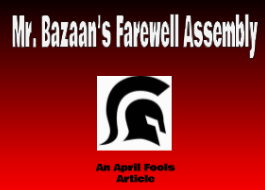 Hang on for a minute...we're trying to find some more stories you might like.
Although word hasn't majorly spread, Mr. Bazaan has told only a few that he will be moving schools therefore no longer being the principle of EMS. Arrangements of a final farewell to him is being arranged by a select few students. The assembly will be held during the last week of school where numerous groups of students that include the spirit squad, band, and choir will perform in honor of Mr. Bazaan's time at the school. This short article is an example of what someone might do on April 1st, otherwise known as April Fools Day, this is a day where pranks are put into motion and are pulled by many who celebrate this abnormal holiday.