Cut Off From the Outside World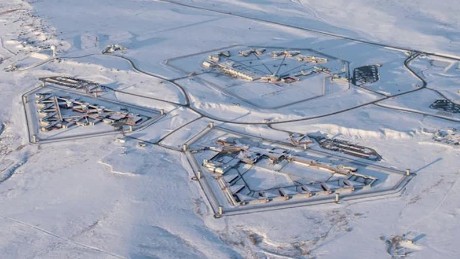 Hang on for a minute...we're trying to find some more stories you might like.
You are in beautiful Florence Colorado looking at the magnificent Rocky mountains, only to see the Rockies for the last time in your entire life!
This summer my family took a vacation to Colorado Springs and a few other places in Colorado. We were driving and saw something that my dad thought was the supermax prison (ADX), it wasn't though. I didn't know what the ADX was so I googled it, and it got my attention.    
Inside Supermax Prison:
The supermax Prison is made for the worst of the worst bad guys!  If you've ended up there you've done something very awful! Supermax is supposed to block the criminals from the outside world. In the prison there are many Units. There's an enormous cage around ADX so the prisoners can't escape from a helicopter. Hundreds of cameras watching your every move and thick metal door sliding open and shut so if you try to escape you won't get very far; maybe just four feet!  When the prisoners get to walk around for an hour they only have a cramped little space only a bit bigger than their cell. There can't be more than one person in the fenced in area at a time. They can't see anything but sky and the ADX. Their food would be served through a minute slot in their cell's. If you misbehave they would use tear gas, night sticks, steel boots and riot gear. Then if they still are action up they will be sent to the control room(were the worst of the criminals go even though they are already really terrible)!
Life in The Supermax Prison:
Prisoners would stay in a cell that was 7 foot by 12 foot, made out of entirely of concrete (walls, floor, ceiling, desk, toilet and bed with a thin mattress and blanket)! There was a small window to let natural light in, it was only 42 inches high and 7 inches wide, couldn't see past the prison. They were acquired to stay in the cell for at least 23 hours a day (the one hour of being out of the cell would be canceled sometimes). People would get switched to different units so they could see new people. An ADX prisoner that got out said,  "sometimes guys would lose social skills and always go crazy" (Ray Sanchez and Alexzandra Field). There's only a few things do such as lift weights, push ups, read, watch black and white regional and informational TV, radio (few stations) and write but you had to buy a pen which was expensive and it didn't even work, (small floppy pen, so it wouldn't be used as a weapon)     
How to Get That Far:
The people that have ended up here had to of been to jails, prisons, killed staff and killed visitors! Or just have done something so terrible they go there straight away. Some people who are in the ADX right now include the Unabomber, (Sent bombs in the mail that killed many people) Eric Robert Rudolph (Bombed Atlanta's centennial Olympic park), Dr. Michael Swango (Killed three of his patients in Northport, New York and Ramzi Yousef (Mastermind behind the 1993 world trade center bombing in New York City). There's many more people in the ADX but those are some of the famous criminals.    
In conclusion the Supermax is a place in life that I would not want to end up. As Travis Dusenbury (ADX prisoner that got out) said, "once you step in the ADX you feel the dread that this is life after death"!