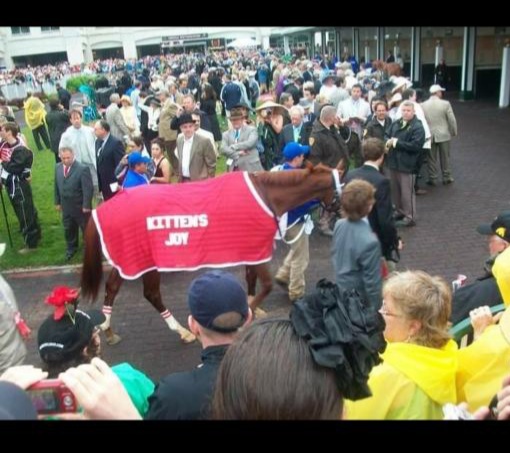 You're on the horse. The horse is eager to get into the chute. You get loaded into the chute, you hear the bell ring. Dirt goes flying and you're off. The crowd is going wild and yelling like crazy people but, you can't hear them because it is just you, the horse and the loud sound of hooves hitting the dirt. You go around the corner in second then finally, you're at the home stretch. You are tied for first place then by the hoof of the horse you win! When it finally hits you, you smell roses like the flower shop from the blanket of roses that is on the horse. You have won the triple crown! Have you ever wondered what goes on before the race? In this story we will look at the different breeds and history of these amazing horses. 
What is the best breed, or type, of horse for horse racing? One breed that is great to look for is the Thoroughbred racing horse. It is a great horse for racing because they are tall, fast and have a good racing spirit, says thesprucepets.com. Another good breed of racing horse is the Standardbred. Imh.org says that they are harness racers. That means that they pull a carriage during the race. According to Horsebreedspictures.com, A French Trotter is another great breed of racing horse. It is very persistent and good at pacing itself for long races.
What are some Famous racing horses? One famous racing horse is Secretariat. Americasbestracing.net tells us that, In 1973 Secretariat won the Belmont Stakes by 31 lengths, which led him to win The Triple Crown. Sea biscuit was also an amazing racing horse. Americasbestracing.net reports that he was a thoroughbred that had also won against the previous winner by 4 lengths in a two horse race. Another great racing horse is Man o' war. He won 20 out of 21 races that he did. He was also named horse of the year in 1920, says Britannica.com.
What are some Famous Race Tracks? According to travelandleisure.com, Churchill Downs is one famous race track in Kentucky. The track is named after John and Henry Churchill. One famous race that happens in Churchill Downs is the Kentucky derby. Arlington Park is another famous track in Illinois. The track is a thoroughbred horse racing track. According to arlingtonpark.com, One race that is held there is the Arlington Million. Nyra.com says, Belmont Park is another famous track located in New York. One of the races that is held at that track is the Belmont Stakes.
I really hope you enjoyed learning more about racing horses like I did. Thank you for reading, If you would like to learn even more about racing horses head to this link: https://kyhorsepark.com/visit-khp/virtual-tours/ to see some different things that you would see at the Kentucky Horse Park!