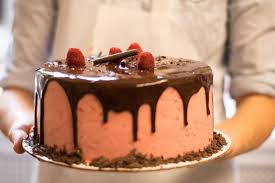 Have you ever had a piece of cake? What did the cake come from? This story will tell you more about cake and everything that has to do with it. From decorating, to how many flavors there are.
According to The Food Timeline Cake was made in the 13th- 17th century in Europe. Cake originally came from fruit cake or gingerbread. Chocolate flavored cake was made in 1765.The cupcake was made in 1796 in America. Cake mix was introduced in 1933.
There are over 920 cake combinations from one catering service. Cakes can have Fillings, frosting, Cake flavor. There are also different types of cake too. There are cupcakes, Bundt cakes, and the regular cake with multiple or a single layer. General Mills did not make flavored cake mix until Betty crocker helped to make it nationwide. Now everyone can make a delicious cake without making it from scratch.
There are baking shows that have to do with just decorating cakes. The Cake Boss (Buddy Valastro) Has recently recovered from a serious hand injury. Some of the best cake decorators have to take brakes sometimes too. People first started decorating cakes in the 17th century. There are multiple ways to decorate a cake from chocolate, to frosting, to having nothing on it. There are also different methods to decorating a cake. There are piping tips, just a frosting knife and there is modeling chocolate, and there is frosting. The frosting can have gel on it. There are a lot of ways to decorate a cake from it being a log cake or a regular cake there are endless possibilities.
At Birthdays you might see a cake whether it is an ice cream cake, regular cake, or a cupcake. There are multiple ways to enjoy cake. So when you are eating a slice of cake you will know more about it.