Best Sports Video Games of 2021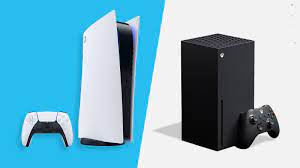 What is your favorite sport and have you played the video game for it? There are many games based off of sports like football, baseball, basketball, and soccer. Many people know about the popular EA sports and 2k games and how they've been making games since the 90's. 2k games and EA Sport have been making games for quite a while and aren't planning on stopping anytime soon. Here are four you should check out in 2021
NBA2k22 is based off of the basketball league, hence the name. You can purchase it on amazon for $20. 2k has a bunch of game modes available like MyCareer, MyTeam, Play Now, and Myleague. I like the game because you are able to pick your teams and the years they played. Like, if you wanted to be the 90's Bulls, you could. There are some downsides like, it's not cross-platform and the movement on dribbling isn't the best. It is still really fun to play with friends, but you have to be playing on the same platform.
Madden22 was patterned after the sport of professional football. You can get it from amazon for around $40. Madden has all 32 teams in the NFL plus some college teams also. Some game-modes on Madden are ultimate team, franchise, exhibition, face of the franchise, superstar KO, the yard, and championship series. Here is a link to better help you understand how the modes work. The player control is very important to the game and Madden's is very good. I also like how you are able to pick the team you want to play when you go head to head. Some downsides are all the glitches and some animations.
Fifa22 allows you to play as a professional Soccer/Futbol player and is around $40. There are 700+ teams in fifa22. Fifa offers many different modes like FUTs, VOLTAS, career mode, and pro clubs. I haven't played a lot of FIFA but do enjoy playing the game. It isn't the greatest because the game's lighting and textures aren't the best, and the animations are bad. Some good things are the new skill moves that they have added and the hyper-motion technology.
The Show 22 allows you to play as a professional baseball player and is around $60-$70. The show has all 30 MLB teams plus college teams. The Show's modes include road to the show, diamond dynasty, march to October, and franchise. I played an older version of the show but heard the newest is very fun to play. There is also a cool feature called 3D audio and it sounds like you are actually at the stadium. A con is you cant play it on PC but you can play it on Nintendo Switch, PlayStation, and Xbox.
Some honorable mentions are NHL22, UFC4, and F122. There are some cons about these games but overall I think they are worth playing. EA has made a lot of sports games and here is a link to see them. If you want to see any more games made by 2k, there is another link. My favorite to play of the 4 games I talked about is Madden22 but I just like football. If you like a sport, give the game a try. Whatever kind of games you choose, have fun gaming!