Best Supplies For Training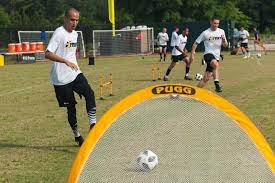 Have you ever wanted to practice soccer at home? If you have and wanted to know some supplies, you should keep reading! We will be talking a little bit about cleats, shin guards, and equipment.
First, we will talk about cleats. For me the best brand is Adidas. They have great support and are very high quality. A pair of cleats from Adidas is somewhere from $40 to $300. There are many different styles to be able to choose from, like laces and no laces, and if you want more of a solid color or many different colors. Even if you get them from Nike or Puma, they will still be of decent quality. 
Next, we will talk about shin guards. For me, I have always got Nike shin guards. I think that it depends on where you like the placement and how you like your shin guards to be able to find the right kind. The price at Nike is somewhere between $12 to $24. One feature I like in my shin guards is when they are not "solid" in the back but when they have holes. I don't really care what color my shin guards are because they will be covered up by my socks. But I like mine to be white because they just look better.
Lastly, we will be talking about some equipment. One thing to get is cones because they have many purposes such as having better touches on the ball, dribbling around them, or making them a goal. Those are only some of the endless ways you can use cones. Another thing to get is a rebounder because it will help you work on settling the ball and make better passes but if you don't want to buy a rebounder you can use a wall.
There is some other equipment that will make you get better. For instance, a Pugg 6′ goal will help you practice precise shots. Some other great brands are Sklz and Puma. If you found this helpful, make sure you keep checking out my soccer stories.