Uss Intrepid (CV-11) "The Fighting I"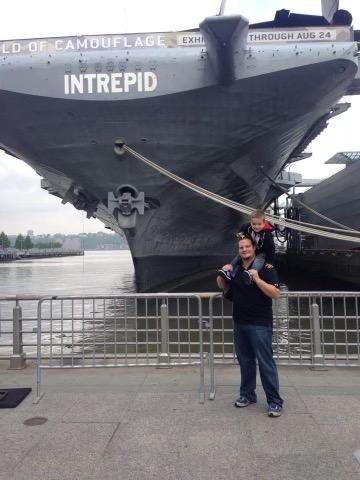 Did you know that during the second world war, the USS Intrepid was hit by 4 kamikazes and 1 torpedo? This is the USS Intrepid (CV-11), and it served in WW2, Korea, Vietnam, and, later, in the space race. Let's take a look at this ship, its history and it is today.
The ship was commissioned in 1943. She was sent to the Pacific to fight against the Japanese. She was hit by a torpedo and four kamikaze attacks. In 1946 she was decommissioned. In 1955 She was recommissioned. She later served in Vietnam before she was used for the Gemini programs. In 1974 she was decommissioned for the last time.
The ship weighed somewhere at about 36,000 tons. She could travel at about 33 knots like all other Essex-class aircraft carriers. She carried 8, 5-inch guns in 4 mounts. She also had a LOT of anti-aircraft guns, as well as carrying about 100 planes.
I visited the carrier in New York City when I was four, and the ship has a lot of planes (including a space shuttle). Inside the hangar are more planes, and, of course, the island (the place where they drive the ship. Nearby is the USS Growler, which is a submarine that carries cruise missiles. Also nearby is the supersonic passenger plane the Concord.
Overall, this ship is interesting, It is full of history and a space shuttle. The ship went through a lot and earned the nicknames "the Fighting I" and the "Dry I". I recommend visiting this ship
Here is a link to the museum
https://www.intrepidmuseum.org/