4 Cool Places In Norway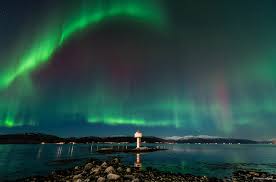 Did you know only 5 million people live in Norway? That's not a lot of people. Yet 5 million people go on long car or plane rides to visit each year. All that traveling is definitely worth it though. The scenery is breathtaking. It could be as simple as a unique and beautiful town to something not so simple like the northern lights or a mountain view. 
Sognefjord is the longest fjord in Norway. Sognefjord looks like a river that runs through the land and back out in a U-shape with beautiful mountains surrounding it. Visiting is relatively easy with plenty of options. Sognefjord is located in Fjord Norway which is towards the bottom of Norway.
Stetind Mountain is a well-known mountain in Norway. The tip of the mountain is skinny enough for somebody to sit on it as if they were on horseback, and there is also a body of water at the bottom of the mountain. Hiking up the mountain can be difficult, but seeing the view from the top is sensational. This mountain is closer to the top of Norway.
Tromso is a beautiful city in Norway. The city is white and snowy in the winter making the lights look brighter at night. You can also see the Northern Lights just from the city. Transportation in Tromso isn't too much of a hassle either. Walking around the city isn't bad but if you'd prefer a bus or car that wouldn't be hard to achieve. Tromso is higher up in Norway.
Mjelle Beach is an eye-catching beach in Norway. The sand is white and red, and the beach is surrounded by plenty of mountains. Visiting is great for a long walk on the beach with friends, family, or loved ones. Mjelle Beach is up north and the best time to visit weather-wise is during the summertime.
Although Norway may not have a big population, so many people go because of how spectacular the country is. Everywhere is so pretty with its own unique sceneries. Whatever you prefer, I'm sure Norway has what you're looking for. If these didn't pique your interest, maybe these places might be more engaging for you.