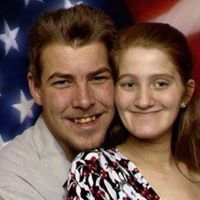 Have you ever felt that you need to spend more time with the people you love? I've felt that since the day of my dad's passing.
I was 4 years old and my birthday was about a month away. I was so excited that I kept on telling my parents about how many days were left until the 5th anniversary of my living.
There was one night that I distinctly remember. I was under the blankets, playing a game on my parent's computer with my older brother, like little children do, and I don't exactly remember the rest. But I remember waking up the next morning saying hi to my Dad. He didn't respond. It was normal. He would usually sleep in, since he was taking pain pills a lot.
My sister woke up and she came over to my Dad and saw that there was a pill bottle, empty. She shrugged. She tried to wake my dad up. He didn't respond. She tried again. He didn't respond. My brother woke up and we started to cry.
He called our mom (who was at work at the time.) and he told her that dad was not waking up. She raced home, and when she got there she called the police. They arrived there after about 10 minutes. The police told my siblings and me to go into the police car and wait there. I didn't get to hear the rest, but I started crying after a bit of being in the car. My siblings started cheering me up, I'm glad they did.
Now after 6-7 years after his death, I still mourn for him. But I've learned since then that I need to spend more time with my family and my friends. I would suggest doing the same for you. Thank you for reading this story, hope you've learned something from it!