Top 5 Emojis in the Emoji Movie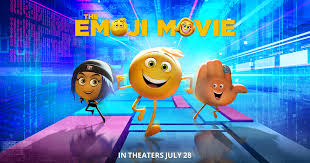 The popular movie, "The Emoji Movie", has many cool emojis and I think that the emojis should be noticed. This list is the top 5 emojis from the emoji movie. I will be looking at all of the good emojis that are included in The Emoji Movie. Without further ado, let's get into the Emojis.
 For the number 5 spot, we have the Emo Kid emoji. The Emo Kid emoji is in the number 5 spot because I like how involved the Emo Kid is in the Emoji Movie. The Emo Kid actually is socializing in the movie instead of being "Emo" which does not make sense. for that reason, I just did not think that the Emo Kid could get a better spot on the list.
  The Meh emoji is the number 4 spot because he was the main character's father. Also, because I like how he says meh. He is a cool dude and he doesn't care about anything. He has a certain sense of humor that is beyond me. That is why he is at the number 4 spot.
  At the number 3 spot, I chose the LOL emoji. The LOL emoji is a cool emoji and is one of the most used emojis in the world. The LOL emoji is a pretty interesting emoji also because though he is not so involved, he is a cool emoji because he is LOL. This is why we have him in the number 3 spot.
We have the Poop emoji in the number 2 spot because he is cool and his son is too. He made a funny joke in the movie and they started laughing. He has only one part in the movie but him and his son are still fun characters. This is why he is in the number 2 spot.
At number one, we have the Monkey Business emojis. The Monkey Business emojis are at the number 1 spot only because of the joke they made. Most people know the joke by now and it was real funny. This is why they have the number 1 spot.
There you have it, my Top 5 Emojis from The Emoji Movie. I think that this was something that was good to talk about especially because this was a huge meme. This list was mostly for fun and because I thought it would be funny. I hope that you enjoyed this list. Here is a link to the monkey bussiness joke just in case you have not heard it, https://www.youtube.com/watch?v=yHxTA3LFSyo