Top 3 Women of the Military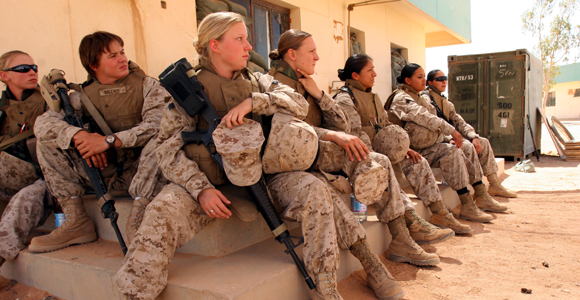 Hang on for a minute...we're trying to find some more stories you might like.
Did you know that women are integral to the U.S military, and they have always been in the Military? This means that women have been behind the scenes the entire time, and have had a major impact on the history of America. I am writing this story to show you just some of the amazing women in our history, and how they might have directed or been a part in something, you didn't know they were.
Sarah Emma Edmonds is most famous for disguising herself as a man to help defend in the Civil War. Sarah Emma Edmonds was born in Canada in December of 1841, and died September 5 1898 at roughly the age of 57. She migrated to the United States in order to get away from an arranged marriage, and an abusive father. Sarah Edmonds decided to dress up as a man in order to travel undetected and secure herself a job, she also changed her name from Sarah Edmonds to Franklin Thomas in order to enlist in the military. One of her greatest achievements was that during the battle of Williamsburg, Edmunds and her comrades were caught, and taking heavy fire. Edmunds picked up a musket and fired with them even though she was supposed to be a nurse. She was also in a lot of danger when it came to her carrying some of her comrades off to get medical treatment in the pouring rain.
Deborah Samson also disguised herself as a man in order to fight for the Continental Army during the American Revolution. She was born on December 17, 1760, and died at the age of 67 on April 29, 1827. She was one of the few woman who served during the American Revolution, after she had fought she was awarded a pension for her military service. It was found out that she was a women when she was taken to the hospital a year and ½ into her service, because she fell ill during an epidemic. While she was surveing she was sent out to scout a dangerous area to assess the amount of British buildup of men and materials in Manhattan. In June of 1782 Sampson and two sergeants about 30 men on an expedition which ended in a lot of conflict.
Elsie S. Ott was born in 1913 in Smithtown, New York, and died at roughly the age of 93. Elsie S. Ott was a specialized flight nurse. She took part in the first intercontinental air evacuation flight in January 1943, this is one of the reasons she was really important to the military. For six days she took care of each of the 5 patients that evacuated till they made it to Washington. She completed this task without ever being on an airplane or having any training of air flight. That is why Elsie S. Ott is on this list.
Women have had a very important part in our history over all. Some women on this list were so brave because they could have had a lot of consequences for pretending to be a man to get into the Military. While there are many women of the Military could be on this list I feel that these women journeys and what they did for there countries is remarkable, and that is why I put them on this list. Also, all women who serve are so brave and are heros to our country.