Throw a Beat Into our Community: Travel Around the World
Sydney Douglas, Editor
May 4, 2018
Hang on for a minute...we're trying to find some more stories you might like.
Imagine you're in North Korea getting blinded by different varieties of colors and bright lights watching remarkable dancing, singing, gymnastics, and much more!  These are just some of the sights you will see at the Mass Games from North Korea. In this article I will be sharing three artistic/musical celebrations from around the world.  
Mass Games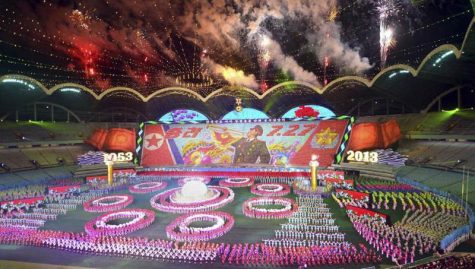 Image from All that's Interesting
The Mass Games is an hour and a half performance of singing, acrobats, gymnastics, dancing, and performances.  One cool aspect of the mass games is students hold cards and flip them around to create a picture that goes with North Korean history.  The Mass Games occur every six years and has been happening ever since 1994. Short video of the Mass Games (TVR Exploring).
Chinese New Year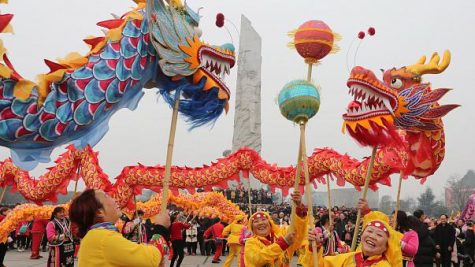 Euronews.
The Chinese New Year is held every year for about 15 to 20 days, but it mainly depends on what day it falls on the lunar calendar.  It's held to celebrate the coming of the new Chinese year. Every year the Chinese New Year has a specific animal for the theme. Last year (2018) was the year of the dog, the upcoming year will be the pig.  To learn your Chinese Zodiac sign click on this link.  Chinese New Year traditions consist of cleaning the house to get rid of evil spirits, fireworks, decorate with lanterns and upside down fu, and dragons are at the celebrations to scare away evil spirits.  For more information check out this website.
Maltese Festa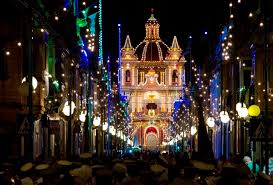 ILES Malta
Maltese Festa is an island life celebration in Malta, where the community comes together and socialize through festivities and color! Festa means: a religious festival (Dictionary).  The activities that take place are church bands, fireworks, street parties, and carrying of the life-size patron saint.  For more information check o[ut Malta Uncovered.com and European Year of Cultural Heritage.
Any of these events would be a site to see!  Two out of the three celebrations are uncommon in the US, except for the Chinese New year!  My next story will be about artistic/musical celebrations in the US.