Allons-y Azec Leyna All about Tour Saint Jacques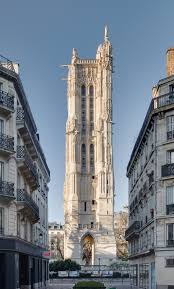 Leyna Allen, Senior Reporter
May 10, 2018
Tour Saint Jacques; you probably have never heard of this structure, but it is a famous tourist spot in Paris. Today, I'll be telling you all about this building like where it was built and why.
What Is It/Who Built It/Where Is It Located?
The Tour Saint-Jacques is a goth looking, isolated bell tower that used to be connected to the Saint-Jacques-de-la-Boucherie church, before the church was it was destroyed in 1797. The construction of this building couldn't have been possible without the architects Jean de Félin (who also built the Église Saint-Aspais) and Julien Menart. This monument is located at Square de la Tour Saint-Jacques, 75004 Paris, France.
Fun Things To Do
Tours of the tower is available, but you have to reserve it before hand. Tour groups have 17 people per tour, and be prepared to walk up 300 steps because you won't be able to go back to the bottom. You can talk a picture in front of it as a memory, but overall all you can do is take a tour. If you do take a tour, kids under the age of 10 cannot go to the tour because of valuable objects in it, if you are claustrophobic or afraid of heights then this tour is not recommended for you.
Why is it Important to Paris?
This building is a historic monument in Paris, because it's all that remains of the Saint-Jacques-de-la-Boucherie church. This tower is a sign of the damage that was caused and how the Parisians got throw all the pain and suffering. This tower is also important because it is named after its architects.
In conclusion, this is a historic building that has been here since 1797. To learn more about the Tour Saint Jacque go to the the links in below the article.  Prendre Plaisir!