All About Ridley Richardson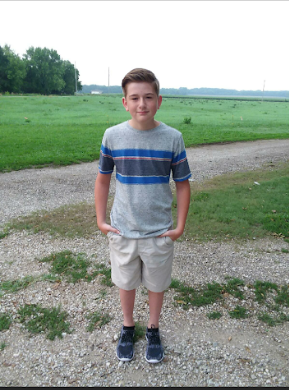 Lacey Rust, Contributor
September 20, 2018
Hang on for a minute...we're trying to find some more stories you might like.
 Ridley is a modern-day future farmer.  He would love to be a veterinarian in his future, because he is an animal lover.
      He loves animals. His favorite animals consist of his chicken Beth, and his cows. He also has 2 dogs, a boxer named Bella, and a boxer-pit bull mix named Maize. His favorite dog is Bella. He is not all about animals though.  Some of Ridley's ambitions are to catch a 50 lbs a fish by August 2019. In 10 years he sees himself in college for veterinary school. He would also love to learn how to do parkour and do some flips and tricks.
            His other side is that he loves his family. Ridley's first memory was of him playing soccer with his family when things took a wrong turn, he broke his wrist. He has one sister and one brother he is the youngest but he likes his brother a little more than his sister because he can get along with his brother a lot easier. Although his family does not have any family traditions he can recall his favorite thing about the holidays is he gets to be with all of his family. He also loves superheroes he likes Marvel and his dream is to meet Stan Lee the creator of Marvel. Although he is a huge fan of marvel he is a fan of DC but not near as much. His favorite Superhero is Deadpool. As it seems he loves so many things he is not a fan of some things. His biggest pet peeve is when someone shuts off a car and leaves in a gear. He also hates it when you wake him up.  Let him get his beauty sleep!
      Conclusion: Thank you Ridley for letting me interview you.  You never know the little things about people. Ridley has many different sides and I learned a lot about him. Just listen, be nice to people, and maybe you can make a new friend.