Were The Ancient Egyptians more Advanced Than We Thought They Were?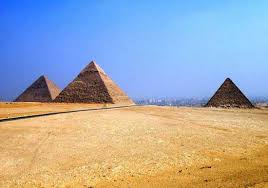 Hang on for a minute...we're trying to find some more stories you might like.
Imagine riding on the back of a camel to your job building one of the great pyramids of Giza. At the end of the project everybody was in awe little did you know no one would know the real purpose of the pyramid until now.
 The theory is that the pyramids were not built as tombs but rather as electrical conductors. The pyramids are known by many as the best ancient energy machines. It was like a Tesla power plant created thousands of years ago. Theorist said the power plant was able to to use the earth's elements to create a large amount of energy. The energy is believed to be used by other civilizations including the Maya.
What if I told you Thomas Edison did not invent the light bulb? There have been light bulb looking figures in ancient times, and they are connected to a wire looking figure. Although, if you approach it from a different side the ancient Egyptians were far more advanced than we believe them to be. They had something called the Baghdad battery.
The outer casing of the pyramid was white tufa limestone which was put together so nothing could get in. Also, it has no magnesium in the limestone which is great for insulating things and it allowed them to control how much energy was allowed to leave the pyramids. You might be wondering where they got their energy from. Located underneath the pyramids there are aquifers. The limestone layers located underneath (Aquifers), and the spaces in between them are filled with great amounts of water, and these layers of rock are capable of transmitting energy upwards as they carry the underground water to the surface. This means that the high volume flow of water that passes through these underground cavities is capable of producing an electrical current; known as physio-electricity. According to Quora, "Physio-electricity can be defined as 'Electricity obtained from the natural physical movements with the help of certain harnessing devices'".
Do you think this would be possible?Many mainstream scholars disagree with this but I think it needs a little more recognition so we can get more proof. There is way more to this theory for more information go to Ancient Code.