Red Dead Redemption 2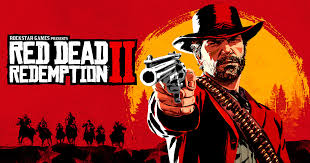 Hello everybody. Have you ever heard of the new game Red Dead Redemption "2"? Well if you had, what are your opinions on it? What do you like about it the most? Hope you enjoy my story on the EMS Sound.
The background of this game is about a gang or settlers always moving from town to town because they're outlaws. Then, you have to earn money for your camp and pick a job that you have to do every day. If you don't get food or clothing you get kicked out. Lastly, you can play as a hunter and you can hunt all sorts of animals and you can eat from bears and other dangerous animals.
The graphics are probably the best factor in this game. They show you every last bit of every single plant, grassy spot, and structure. They make the shooting and riding your horse so realistic you can't even notice sometimes it's a video game. You can buy guns in towns at the gunsmith or steal horses from around cities or stables.
Lastly, the game is taking place in the 1890's in the United States. The environment is amazing. There are different parts where it's snowing in one part then it's all muddy and it's a swamp. You can buy clothing for every type of climate from Blackwater, Valentine, Annesburg Mine, and Saint Denis.
My favorite part is the climate, graphics, and backdrop. What do you like do you plan on buying this amazing realistic game after you've read my story? Hope you enjoyed my review over Red Dead Redemption 2, and look to seeing more of these stories. See ya.