My Puppies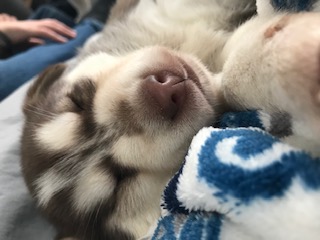 Gabriella Rivera, junior reporter
October 30, 2019
"The love of a dog is a pure thing. He gives you a trust which is total. You must not betray it." – Michel Houellebecq. Dogs can be very important to people like me. I, like other people, talk about my dogs a lot, or, in this case, my puppies.
was the day after my birthday, January 18, Friday. My family and I were having a party. But wait, where is my dog? We search around the house and we find her outside in the yard. What I thought was crying I later found out it was my dog, Luna. She was having her puppies. It's like a birthday gift from my dog.
When the puppies were born, my dog Luna was super protective. We ended up having 5 puppies, 4 girls, and 1 boy. Lubbock was the first one born. She was named after Lubbock Texas. Bo was the second born. He was the only boy so we named him after Bo Duke from the Dukes Of Hazzard. Snow was born 3rd and we named her after the winter snow. The 4th was Lilo she was obviously after Lilo and Stitch. The 5th, also known as the runt, was City also known as Chasidy or Chacha.
They were born in the night, so I was really sleepy and I don't really remember a lot. I do remember my dog Luna in pain, and the dad, my dog Sky, was curious. I do love my dogs and it's weird to think that they were once in my dog's belly. It's weird to my dog Sky because he is barely 1-year-old and he thinks there're just his friends, but they are his kids.
We sold Lubbock and Lilo, and we still have Bo, Snow, and City. Eventually, my dog Luna let us pet them and hold them. And they are very healthy dogs. They love to be outside, and they never leave each other's side. And I hope they never leave my side.