Red Robin "YUM"!!!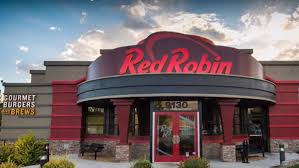 Everyone knows Red Robin " Red Robin-YUM." Everyone knows the slogan but do they know how good Red Robin really is? I have been to Red Robin and I am going to tell you everything you need to know about red robin.
I always loved Red Robin because their food was always cooked to perfection. I always get a burger from Red robin and their burgers always fill me up which is good. Some types of burgers that red robin has are the Southern charm burger, the mad love burger, smoke and pepper, and the master cheese. If you don't want a burger, there are a lot more things on their menu. Their fries are cooked perfectly, not burnt or raw. Also, once you finish one basket of fries they bring you another. And if you really want to know what is good with your fries from Red Robin, then look at the next paragraph to find out.
Red robin's Campfire sauce is the best sauce I have ever had. Dipping your fries in the sauce is like a magic trick in your mouth. If you don't like fries or something like that, put it on your burger. I always get extra sauce. That's how good the sauce is from Red robin. The Campfire sauce is a mixture of mayonnaise, inexpensive hickory barbecue sauce, and chipolata pepper.
Every time I went to Red Robin the ground was always squeaky clean. if maybe you go and they aren't clean, then their worker will for sure clean it for you. The bathrooms are clean and they always clean the tables before you sit down at them. I will say red robin is one of the cleanest restaurants I have been to. If you go to Red robin, you will see that they keep their restaurant clean.
I would give red robin a rating 4.5/5 there food is great and their restaurant is always clean. I chose this restaurant because I wanted everyone who is reading this story to know how good red robin really is. Here is a red robin menu if you ever wanted to see what they have. https://www.redrobin.com/. If you wanted to find a red robin near you click this link https://www.redrobin.com/find-us/.