Cleats Review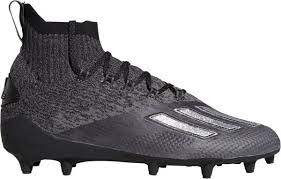 Have you ever wanted to run faster? Cleats come in three different cuts: Outsole – The outsole is the part of the shoe where you get traction from the cleat. Midsole – The midsole is the inside of the shoe which provides a cousin for comfort. Upper – The upper is the outer layer of the shoe, usually made from leather or synthetic leather, and is very durable. As you can probably tell I am going to be talking about football cleats. I will be showing you some of the best cleats I found from Dick's Sporting Goods and Nike.com.
The first shoe I'm going to be talking about is the Nike Men's Vapor Edge Elite 360 Football Cleats from Dick Sports. Go here if you want to see some other cleats: https://www.dickssportinggoods.com/f/football-cleats. These cleats cost $199.99 and are not rated the best. They are rated a 2.0. Team Nike said, "These weigh about 11.7 ounces! They also feature locking mesh to help support your foot during cutting." you can get these shoes in black and white, red and white, silver and black, silver and red, and finally silver and blue. These cleats go up to your ankle and are really slick. If I was playing football, I would buy these cleats.
The other cleats that I'm going to tell you about are also from Dick Sports. They are called the Adidas Men's Freak Ultra Mid-Football Cleats. These cleats have no customer reviews but are rated a 4.5. You can only get these cleats in white. These cleats go past your ankle for protection. The Adidas sign is silver on the side of the cleat and the rest is white. On the inner side of the shoe, it has a smaller Adidas sign with Adidas spelled out underneath that.
The next cleats I'm going to tell you about are from Nike.com I found two that attracted my eyes. Go here for a link to Nike.com: https://www.nike.com/w/mens-football-shoes-3hj8mznik1zy7ok. The first one is Nike Alpha Menace Elite 2. This shoe only comes in white and has black Nike symbols on the bottom and sides of the shoe. The inside of the shoe has lime-colored padding that looks extremely comfortable. This shoe is 44% off and instead of $200 it cost $110.97 right now on March 9, 2021. This shoe looks amazing and has cool designs on the bottom of it. This cleat has straps instead of laces on tennis shoes which would make it a lot easier to put on the cleat.
The last cleat I am going to be telling you about is the Nike Force Savage Shark 2. This shoe has 4 colors red, blue, white, and black. This cleat is $60 and has an unreal design on the outside of the shoe. This cleat has a Nike symbol on the toes of the shoe and on the outside of the shoe. There is also a small symbol on the bottom of the shoe. Just like the other cleat, this shoe has a strap instead of laces off of tennis shoes. This shoe is highly rated and I recommend checking it out for yourself.
Cleats are important to have for grip when running and because more than likely your coaches are not going to have the cleats for you. Overall the cleats that I told you about are all amazing, but the biggest difference is the price. The price on these cleats can be high and low but the best cleat I saw was the Nike Alpha Menace Elite 2. This cleat was not too expensive but just had enough price to it that you should know that that shoe is going to last you a while. If you are not able to go out and buy cleats just know it is always good to go out, throw the football around and have fun.