How did the Lion King Change Animation?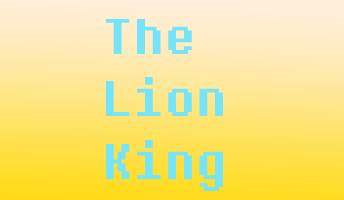 Have you ever watched a movie that had sold out in theaters? What was the movie, and what was it about? Was the movie a big part of your childhood? Today I am writing about how this is how the Lion King broke the box office in 2019. 
Lion King is an animated movie that came out in 2019. The movie wasn't well treated at first, as many critiques on youtube saw the live action version as a bad thing. Later in the year, many people started to like the reimagining. The movie had come out on Disney+, which the next year would become a huge thing as well. Disney+ is a streaming service that wasn't too well received, but in 2020, the service had well over 50,000,000 million subscribers. At the end of 2020, the movie was well received, making over $1.3 Billion at the box office!
The producers had the budget of 260 Million USD, which put most of that money into the photorealism the movie has. In fact, the movie is shot with a virtual camera inside of a really strong game engine. Nothing in the movie had used motion capture for the scenes. The film was produced at a Disney theme park in Florida. 
As said before, the movie made a whopping 1.3 billion dollars. The movie had even broken a Disney record, but it's not clear which one. Disney had even referred to the movie as a "Live-action movie," but it was almost entirely animated. The movie managed to get $473 million in 24 days of it's opening release. The movie even passed most of the Avengers and Star wars movies, it also passed Incredibles 2 which was one of the top animated movies before Lion King came out. 
This movie was a throwback for many people that lived through the 90's. It had broken many records from the box office. Millions of people enjoyed the movie with it's life-like animation. The original movie was a great mark for Disney's history. You can watch the movie on Disney+ if you have a subscription.