2013 El Reno Tornado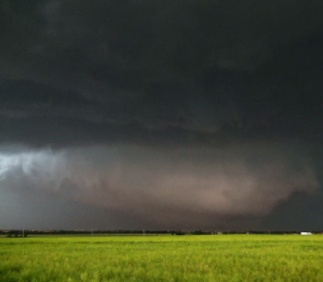 As I looked up at the sky, grey, dark clouds are rolling in. The rumbles of thunder, the flashes of lightning. The rain started pouring. BOOM! A massive rumble of thunder shook the windows. Soon, El Reno, Oklahoma would be hit by a tornado. 
I got a notification, saying there was a tornado watch. I turned on the news. I noticed there was what looked like a hook echo pretty much above us. I love storm chasing, and I thought "Hmm, why don't I watch this one?''. I got into my car and drove out into the country, where it showed rotation, from the radar. I noticed this thick, dark cloud that stretched really far. It was a Wall Cloud. There was a supercell right by it, rotating strongly. Soon, I saw Suction vortices. It seemed like there were hundreds of them!  All the energy, and dangers, but beauty. It's really odd, the way a tornado works. The way it works is when the warm, humid air collides with cold, and dry air, it produces instability, and that causes severe thunderstorms. The warm air rises through the cold air, which causes an updraft and becomes a tornado. 
Soon, my phone vibrated. There was a tornado warning for El Reno. "Yeah, I should probably go home." I thought. I got back in my car and hurried back to El Reno. I got home, and the sirens were deafeningly loud. I got my pets and went to put them in the basement. I walked back upstairs and walked outside. I could smell the rain. I noticed a loud, dark grey cloud, coming straight for town! That easily was an EF5. It was a wedge, which made it even worse. It literally sounded like a freight train. I headed back inside and went downstairs, and the sirens were still going off. I turned the TV on. I changed the channel to Channel 4. Reed Timmer and his crew were chasing the tornado. They had a helicopter and the Dominators. Soon, the basement went black. The power was out. 
I got on my phone and got onto Facebook. My stomach was churning. I got my survival bag, and got my vintage oil lamp, and lit it. I heard a whiny, growling sound. It was Charlie, my little Aussie. He had his ball. I threw it, and he ran after it. He came back and sat on the couch. My phone went off again, and this time, it said there was a flash flood warning. I looked at the radar. "Yeah, that's a hook echo," I said. It was a perfect one, which wasn't good. I went ahead and looked through the window. I lived in the center of town, where this wedge was. I watched as it destroyed buildings, left and right. It was around a mile away, but still terrifying. I sat back down, hoping it wouldn't kill anyone, or destroy my house. Seconds felt like hours. I fell asleep, and I woke up, around an hour later. I peeked through the window and watched as the tornado was still there, but it was getting smaller and smaller. 
Soon, it was gone. I saw rubble from what used to be buildings. Smashed cars all over the place. I went upstairs, expecting to see my house destroyed, and thankfully, it was perfectly fine! I got a text message from my friend, saying "Apparently, Tim Samaras died.". He was an engineer and professional storm chaser. His car was smashed, and unfortunately, it killed him. I saw that a Weather Channel vehicle was also destroyed, and thankfully, nobody was killed, just minor injuries.