Great American Market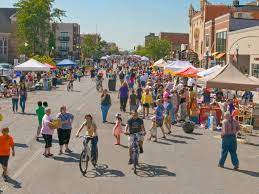 On September 11th, 2021, Emporia held an event where people buy things and sell things. People can come hang out downtown. The event is called The Great American Market.
Where is the Great American Market? The Great American Market is in downtown Emporia KS. I'm not sure if it's in other towns because the only one I ever go to, is the one in downtown Emporia KS. The Great American Market stands usually fill the whole downtown street. But this year due to covid, There weren't as many as a couple of years ago. But that doesn't mean there weren't good things there.
The Great American Market is a great place. There are many different activities and things to do and buy. For example, You can buy furniture, toys, pictures, and fidgets (pop-it's, etc.). You can also get food and drinks. Another thing you can do is, spin the wheel to see what your prize is, Or you can sign up to win something. There was also a stand with honey salsa and other honey products.
What did my family and I buy? My little brother and I both got to pick out a big pop-it out of all more than 100 pop-it's. It was kinda hard to pick out of all those pop-it's. He also got a picture for his room to match with his theme. And he got to pick out a color of frisbee, he picked dark blue. He also picked out this Cherry Limeade drink. I got a raspberry lemonade drink, which was actually very sweet but delicious. I also spun the wheel to see what I would get. It landed on the thing that said choose whatever you want, so I picked this notebook. It was fun.
Before we left, we went to the honey stand and bought this honey salsa which was very good. We also bought a bottle of honey, which was also very good. We had so much fun, and we are always happy when it comes to the time of year for the Great American Market. I recommend going there if you haven't been there before. It's a really fun place, and there are always so many things to choose from and buy. You should try it out!