5 Cool Places To Go Downtown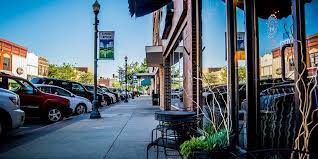 Have you ever been to downtown Emporia? Well, I myself enjoy going and walking around downtown. There are lots of cool stores and friendly people. It's a very welcoming place and you won't feel out of place. It's nice to go for a walk and look at all the different stores and restaurants. Here are 5 of my favorite places to visit in no specific order.
First off is Gravel City Roasters located at 715 Commercial St. They are a local coffee shop with lots of great drinks and snacks. I sometimes go and do my homework or just relax with a drink. I recommend trying one of Chad's rolls that he has there along with a tasty drink.
Second is Trox, which is also located at 715 Commercial St. because Gravel City Roasters and Trox share a building. Trox sells art, art supplies, and other cool trinkets. While walking around and looking at all the art they sell, it's always a little adventure. There's a small gallery to check out while you're there as well.
The third store that I like is Vault Meats and Cheeses and you can visit at 509 Commercial St. The Vault sells cheese, meat, and other snacks to go along with it. The owner, Becky, is a wonderful person and will help pick out the perfect snack for you. I recommend anything really with some bread to go along with it.
For the fourth store we have Ruyi at 1019 Commercial St. They sell different kinds of Asian snacks, tea, and even ice cream. The owners are super friendly and will make you feel welcome every time you enter the store! Whenever I go I make sure to get one of the marble drinks (Ramune) they sell. Pocky is also a really good snack.
And lastly is number five, Sweet Granada at 809 Commercial St. The Sweet Granada sells chocolate, popcorn, and other kinds of sweets. I always like walking in and smelling the chocolate, and getting something to snack on is always the best. The chocolate popcorn and double-dipped cherries are really good. You can also get some dog treats if you have a dog at home.
Going downtown always makes me feel happy. Everyone is so friendly and I've gone there so many times, I know a lot of the people. I always make sure to go during First Friday. Here are a few links giving some information about the event, First Friday: Cj Elstun Experiencing First Friday: Lucia Hernandez. There are also a lot of good restaurants that you can find downtown.