Gymnastics: Events in Gymnastics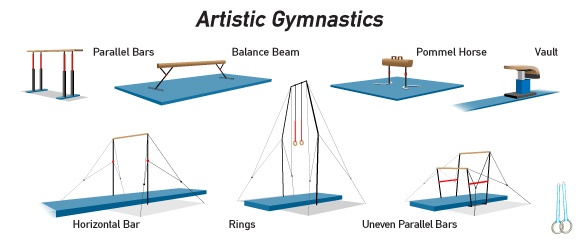 Hang on for a minute...we're trying to find some more stories you might like.
Have you ever wondered how many events are in gymnastics or who competes in them?
Well, today I will be telling you about just four of them, but there is many more than that. There will be two events that women compete in and two that men compete in. The two women's events I will be talking about are beam and uneven bars. The two men's events are the Pommel horse and the still rings. Now, throughout this story keep in mind that there are more events than these but these are just the only ones that I will be talking about.
Beam:
The beam is the first girl event that I will be talking about. Many competitors dread this event and others really love this event. The ones that dread it, have some good reasons. The beam can be very difficult and nerve-racking. This is because you have to do really difficult skills beautifly on a long sturdy piece of wood covered in leather or suede(click here to see what suede is), placed 4 feet in the air. Which may not seem that high until your standing there trying to do all of your skills on this piece of wood that is 4 inches wide and 16 feet 5 inches long.Beam
Uneven Bars:
Uneven bars don't sound that scary or intense, but some people would disagree with that statement. The uneven bars consist of two bars, one shorter and one taller than the other. You start on the smaller one then during your routine you transition onto the taller one by doing some sort of skill a few are, straddle backs, overshoot/bail, and pak salto. There are many more but these are just a few of them. A full routine consists of fifteen to twenty skills with a dismount and stick at the very end of it.Uneven Bars
Pommel Horse:
The Pommel Horse is the first men's event that I will be talking about. Pommel horses that we use today have a metal body covered with foam, rubber, and leather, with plastics handles. This event uses a lot of upper body strength and the routines are made up of circular motions of the body with an occasional leg skill here and there. Something that has to happen to get a good score during the routine is to keep your feet pointed and your legs straight. The gymnast is also supposed to keep their legs together the whole time except on certain skills that require the legs to be apart.Pommel Horse
Still Rings:
The Still Rings consist of two rings that hang freely from a metal frame. Each ring is attached to a strap that is connected to the frame. For this event your body movements determine the way the rings move and react to the skills you preform. To compete this event you would want to wear ring grips otherwise your hands would be calloused and probably bleeding once you get finished with your routine. The rings consist on having a lot of upper body strength and being able to hold your body weight above you for more than seven or eight seconds.Still Rings
Conclusion:
In these four events there were two guy events and two girl events. The link below will take you to a website of all of the events in gymnastics including the ones that I discussed here. I hope that you learned something new about this sport from this story.