Greek Mythology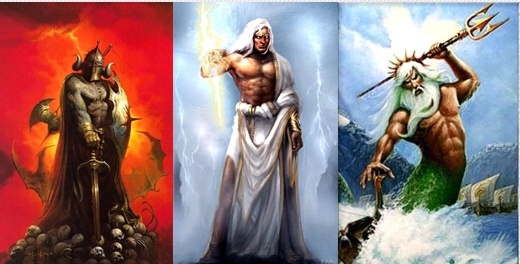 Hang on for a minute...we're trying to find some more stories you might like.
How would you feel if you had the power to control lightning or be the ruler of your own world? Today will be telling you about some of the interesting stories of Greek mythology. Greek mythology is about gods and demigods and mythical creatures. Also, Greek mythology is still popular to this day.
Let's start off with some of the major gods like Zeus Hades and Poseidon the rulers of the heavens, the underworld, and the sea. First off, Zeus. He is the ruler of the heavens and the king of gods so he is the one that most people know the best. Second is Hades. He is the ruler of the underworld which is guarded by a giant three-headed dog and a river of acid. Then there is Poseidon. He is the ruler of the sea. You might know him as the father of Percy Jackson from the book series Percy Jackson & the Olympians by Rick Riordan.
Imagine being the son of the most powerful of the gods. Pretty sweet, right? Then you would Hercules. There have been many stories and movies made about him. Hercules was the son of Zeus and Alcmene. But then Hera (Zeus's wife) tried to kill Hercules by sending two giant snakes after him. But it was no use because he had gotten supernatural powers from his father and strangled the two snakes. But Zeus knew the dangers of Hercules being on Mount Olympus with Hera so he sent him down to earth. When Hercules grew up he wanted to reunite with his father but he needed to complete 12 trials before he could. In the last trial, he came face to face with the hydra, a terrifying beast with nine heads. Hercules cut one of the heads off but it regenerated with twice as many. Hercules got an idea to light his sword on fire so they could not regrow. And once it was dead he got to come back to Mount Olympus.
Now think of being a huge titan that ruled the land.  You have the power to control the winds and make the sun rise. The Titans were the first to roam the earth until Rhea and Cronus gave birth to Hestia, Demeter, Hera, Hades, Poseidon, and Zeus. But in fear of them overthrowing him, Cronus swallowed all of them except Zeus who Rhea had hidden from him. But eventually, Zeus defeated Cronus saving his siblings and became the king of the gods. 
So what did you think about Greek mythology? It goes to show that the Greeks had some pretty weird, mythical, and exciting stories. Which one was your favorite? Mine was Hercules. I hope you enjoyed it I know I did!