Assassin's Creed Origins Review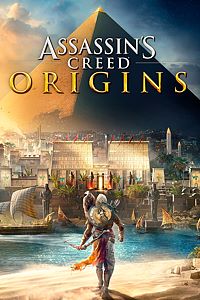 Hang on for a minute...we're trying to find some more stories you might like.
Imagine visiting a world full of ancient wonders, traveling to old pyramids, and hanging out with Cleopatra and Caesar. Today I am going to review the epic game Assassin's Creed Origins.
My overall experience with the gameplay of Assassin's Creed is pretty good. First off I need to point out that the parkour controls have gotten a lot better and anyone who plays Assassin's Creed can agree. I would say that the biggest change in the controls is the combat system, it's to where you now have actual attacks instead of this mash button to attack until we tell you to mash this button to block. The new combat controls allow people to enjoy more action-packed fighting while also being focused on stealth.
Now here's my favorite part, the story. By the way, this is where the spoilers come in. So, if you want to enjoy the story for yourself then I highly recommend playing the game first. You play as an assassin named Bayek who is the founder of the assassins; hence the name Assassin's Creed Origins. He became an assassin because there was an organization called the order of ancients who killed his son, so he vowed to kill everyone in that group. The game even includes a lot of history that may or may not be true but you can visit real-life locations and characters.
Now Ubisoft has been making the graphics and controls better in every game in the Assassin's Creed franchise, but this one is by far the best that I have seen. The graphics look so realistic and they made parkour in the game better too. Some dislikes I have about the game is that everyone who played an Assassins Creed game will know, is that the parkour is a bit weird. You can be trying to jump to a different platform but instead, your character will drop down, but they have been getting a lot better with the jumping and climbing.
In conclusion, I think that Assassin's Creed Origins is one of the best games in the Assassin's Creed franchise. I would highly recommend it to anybody who enjoys Assassin's Creed and a bit of history too.