Who is Sweet Ascent?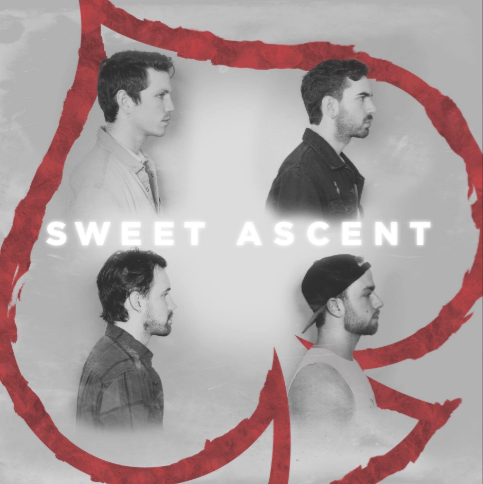 Jasmine Grundleger, Senior Reporter
February 18, 2019
"Overwhelmed," "Nobody Sleeps in Oklahoma," "My Life," and "Safe to Say," are songs from the album "Take It or Leave It."  This might be an album you have never heard of and songs you might have never listened to, but these songs are by a band that's based in Lawrence, Kansas called Sweet Ascent.
Members
This rock band has four members: Jordan Remban the vocalist, Jacob Dorn the drummer, Allex Wilson and Bobby Louden the guitarists. Their debut album "Take It or Leave It" was released in January 2018. This album has 10 songs including "Dear Mom" dedicated to the mothers of the Sweet Ascent members. Almost all of the group lives out of town in places like Ottawa and Lawrence KS, but Wilson was raised here in Emporia KS meaning he walked the halls of our middle school and high school.
Music
Sweet Ascents' music is all written by the band themselves, each person writing their own parts yet it's group effort all at the same time.  According to Wilson, "It was like a group (effort) but also divided… So I'll write music and Bobby will write music, Jordan solely writes the lyrics." Drums on the other hand don't exactly have notes, as stated by Wilson "With drums it's kind of weird, you don't start a song by just writing the drums. So Jake (Dorn) kinda has this [basic] idea of how fast the song gonna be. We'll get a drum sample going and he'll add his own flare and style in the studio, like live."
Concerts
This band has hosted and performed at several concerts in the past. One of their more notable performances was when they played at Warped Tour in 2016. Warped Tour is an all-day-event where different bands perform music and sell merch. Throughout the day Sweet Ascents members showed many strengths.  This experience also showed that Dorn knows everyone's equipment exceptionally well. He spent his morning with the stage tech and tunes the guitars and set up the amps while also setting up his drums. Wilson and Louden spent part of their day advertising their band, merch, and music. Meanwhile Rebman set up and organized the merch tent and selling their products. In the past they have gone on tour and have held concerts, but they have slowed their performances to work on more music and focus on marketing.
Sweet Ascent is a rock band with fantastic music. Each person is always looking to improve their skills and learn new ones. Even though Sweet Ascent is young, the group is already successful, with endorsements from big companies and an album that could be played for hours, this group is already off to an amazing start.