Fascinating Sports Cars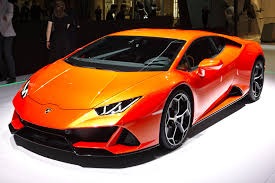 Brody Telfer, contributor
October 29, 2020
Have you ever wondered what it would be like to sit and drive in a sports car like a Lamborghini? I picked sports cars as my topic because I wanted to feel the tough winds blowing through the window of the Lamborghini. I always wanted to smell the exhaust coming from Lamborghini and hear the powerful engine roar to life.
Lamborghini are my favorite sports cars in the world. The looks of a Lamborghini are phenomenal, all of the crisp and sleek angles of the hood on the Lamborghini. Lamborghini was founded because Ferrari used tractor clutches and had crummy customer service. The first Lamborghini didn't even have an engine when they unveiled it." The most interesting fact that I found out about the speeds of a Lamborghini is The Lamborghini Aventador can reach a speed of 220 mph.
Porsche have a unique look to the car. The porches have powerful engines that could attract anyone to the car. An interesting thing I found out about porches is that "Ferdinand Porsche was an Austrian-German automotive engineer and founder of the Porsche car company. Ferdinand Porsche invented the Porsche in On this very day–June 8–in 1948, the Porsche 356 "No. 1" Roadster received its general operating permit." According to https://newsroom.porsche.com, Porches are race cars and are known for their speed to this day. 2013 Porsche 918 Spyders top speeds could reach to 214 mph. Porsche 918 Spyder 0-60 was in 2.2 sec."
Tesla's are very slick looking cars. My favorite Tesla's are the x model because the doors lift up in the back of the Tesla's.  Elon Musk invented Tesla's in 2003.  According to https://factcity.com/21-facts-you-need-to-know-about-tesla/ "Tesla has the honour of being the 2nd oldest publicly listed automaker in the US. The oldest is Ford. Detroit, Michigan is the heart of America's automotive industry. But Tesla operates out of Silicon Valley in California. The company got its name from Nikola Tesla.  The luxury sedan reaches 60 mph in just 2.4 seconds, which outperforms every super car available today. I think that this is a really cool fact about the speeds of the Tesla."
 I love sports cars because they are the coolest looking cars you could find in my opinion. Having a sports car may be expensive but there is an upside to having a sports car and that is you can go to places faster in sports cars. Would you rather have a slow car and be late to work or a fast car and be early to work? I would rather be early than late and I think you would too. Here is a video that has more about Lamborghini and it shows a race against an lambo and another lambo https://www.youtube.com/watch?v=yA4OzHRzoWc.