Traxxas Bandit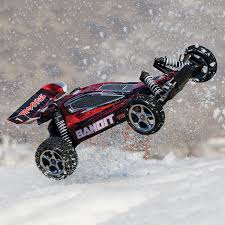 Ethan Rhudy, Contributor
October 31, 2017
Traxxas Bandit xl-5
The Traxxas Bandit R/C car has many epic features including a crazy fast top speed, interesting specs, and most of all good style. I love how it performs off-road. It also has some problems that may annoy the owner. Personally, I love how it works and you will love it too. So here's the run-through of the Traxxas Bandit.
Hardware
The Bandit has amazing parts and design. Some of which are the Titan 12 turn brushed motor. It is an electric motor with the capability to get the bandit at speeds over 20 miles per hour. In turn, the Electronic Speed Control is what gets the motor the electricity. All of the models have a ESC, but some other Traxxas models have stronger ESC units. The Nickel Metal Hydride battery also plays a part charging the Electronic Speed Control, thus moving the motor. The internal parts are the real thing that run the system!
Performance
The performance of the Bandit is incredible and has many special aspects. First, the top speed is an insane 35 mph due to the pinion-spur gears and the motor. It has great suspension that will allow you to drive on rough terrain. But make sure you keep away from tall grass, or you could get your tires caught. Lastly, it's back tires wear down quickly so be ready to get more or just have spares.
Usage / suggestions
There are guidelines to driving this awesome R/C vehicle. First, you have to follow the start-up manuals to make sure that the R/C starts correctly. Also, you can't drive in too hot of weather for too long or else the model will catch on fire!
Afterwords / citations
The Bandit has many exciting features that are PRETTY FUN! I hate it when I break the Bandit, because it does take a little bit of time to get the parts since, we don't have a hobby shop here in Emporia, KS. Also, it is kinda annoying when the battery dies. Overall, I love the Bandit, and, I think it is really fun to drive!
URC Youtube Traxxas bandit review