Changing Oil In A Car
All rights go to: expertvilliage on YouTube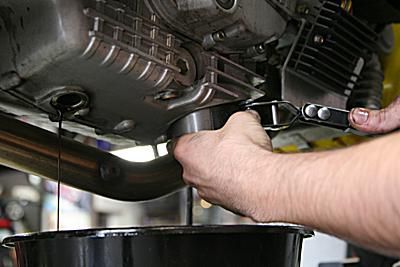 Hang on for a minute...we're trying to find some more stories you might like.
Do you ever wonder why it's so hard to work with mechanics? Especially cars? Well, it doesn't have to be, at least to change your oil. This step-by-step instruction, on how to replace the oil in car is easy, and tells you what tools you should use or need. The tools you will need is a non adjustable wrench, try to find one that fits with having it be adjustable, a medical mask, and gloves a plastic bin of some kind.
To start, you will need to run the engine of your car for around five minutes to warm the oil. Without warming the oil it stiffer and is not easily removed. After that, you will need to use a car ramp and a jack instead of just a jack to lift your vehicle. As you begin, you will also need to not use an adjustable wrench, and use one that actually fits the drain plug on the oil pan. 
After you have almost completely taken off the drain plug, position a plastic container or bin where the oil will spill out. As you are taking off the plug, make sure your head is not anywhere near where the oil is going to spill out, because it will be quite painful, and can burn your skin. After you have taken off the drain plug, and it has finished draining take off the oil filter, and replace it with new oil.
Finally, open the up the top of the car and, find the oil pan the lid should say oil on it. After you have removed the cap, by have take your funnel and fill it with the recommended oil for your car. Tighten the lid back on, and you're done.
After, you have followed the steps above you can use your hands to tighten the filter back on the designated spot on your vehicle. You can dispose of your oil at a dump or oil area around you. Hope you have learned a lot, thanks for reading.