Flint Hills All Star Game
Hang on for a minute...we're trying to find some more stories you might like.
More stories from Sydney Douglas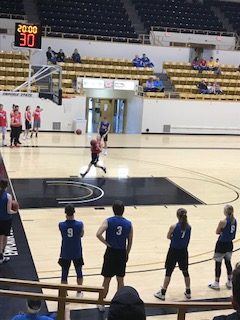 Basketball players, sweating, and hustling down the court ready to make the best play of their high school basketball career!  On Saturday March 31, 2018 at the William L. White Auditorium was the 45th All Star basketball game. Every year the Flint Hills Optimist club held an All Star game to give scholarships to one boy and girl.
Bryan Douglas- President of the All-Star Basketball Classic
What does the Flint Hills Optimist do for Emporia?
Answer-  "The club is a service club whose motto is, "Friends of the Youth".  Our club has many fundraising events. The money raised goes back to the community for projects that involve youth".
 Which do you like better, the banquet or the game and why?
Answer- "I like both, but I like the game better.  I like the game because it is a busy and fun night and people get to see two very good basketball games".
 What did you think when that kid got hurt during the second game
Answer- "I was a little worried when the kid hit his head; he is very lucky because it could have been much worse.  I was hoping he would not have to go to the doctor, but we had to call the ambulance. He is fine now".
 Why did the Flint Hills Optimist club decide to do the fun games before the basketball game started.
Answer-  "We wanted to do something fun that the kids usually don't do for basketball.  Hopefully the kids had fun with the fun games and will be something they will always remember".
 What is one that thing that stayed the same in the All star game since you played in it, and what is one difference in the All Star game?
Answer- " A lot has stayed the same since I played in 1992.  The main difference is when I played, we showed up earlier in the day and the Optimist Club fed us sub sandwiches.  Now we have a banquet at ESU for the players and their family in the ballroom".
Dylan Farr- Red Team
What did you think when your name got picked for the All Star Game?
Answer- "When my name got picked for the All Star game I was thinking about how much of an honor, and privilege it was, because not everyone gets the opportunity to play in that game".
 Do you like playing in that All Star setting or high school basketball games better?
Answer-  "I enjoy both equally.  The All star game was very fun because it was a game more for fun and to have a good time and your showcase talents.  The high school games are also fun because of the seriousness and competition".
 Did you like playing knockout, three point contest, etc, and why?
Answer-  "Yes, I did have a good time with those games because it was a fun way to joke around and laugh with other players and compete against them in a fun and different way".
 Would you do the All Star game again, why or why not?
Answer-  "Yes, I would definitely play in the all star game again.  It was an amazing honor and experience to get to play in such a special game, it will definitely be a game I will never forget".
What was one thing you were looking forward to the basketball game?
Answer-  "Getting the chance to play against a lot of friends and against some teammates.  It was also exciting for me because my dad, brother, and sister all played in the All Star game, so it was exciting knowing that I gotta keep that trend going".
My Thoughts
In my opinion, I thought both of  the games went really well! I usually don't go to the basketball game, but this year I thought it would be a good story, and I was glad I ended up going.  The games were on time and they didn't end too late. The girl's game started at 6:00 p.m. and the boy's game started at 8:00 p.m.. Having fun games such as three point contest, dribbling race, and knock out before the game was a really good idea, it gave the players a chance to get their jitters out and to get warmed up.  This year the club had the Emporia High school trainer, Heather Patterson, which made the game a bit safer. One player did end up getting hurt, but there was nothing they could've done.
If you missed this game, don't worry, there's always next year.  The games are usually around early spring or late winter. Bryan Douglas states, "the basketball game is a way to honor and celebrate the top area high school basketball seniors from 21 different high schools".