Celebration of Holi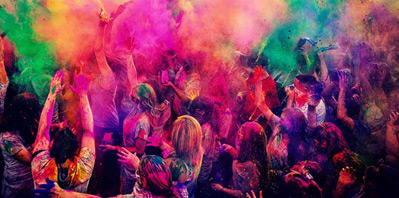 Hang on for a minute...we're trying to find some more stories you might like.
Dear Bob Mcrobb,
I am writing this letter to you to inform you about Holi, something we celebrate here in India. The festival lasts one day and one night. It is a time when people unite and there are beautiful colors. The reason we use such vibrant colors is because it brings positivity. It is a Hindu festival that is celebrated all over my country.
The food on Holi is amazing. My mom makes sannkheins on Holi for the festival. They are a delicious fried food that is traditionally made on Holi. We also make Puran Poli which is a tasty flatbread that is my favorite to eat with its sweetness. Last is probably the best food  Malpua. Malpua is a dessert pancake we make during Holi and Eid
Last thing I want to tell you about is the songs we sing. Most of our songs come from Bollywood.  Our most precious song we sing is a number from Silsilay Rang Barse called Amitabh Bachchan. All of our songs are the most essential part of Holi.
So if you ever want to come down to India try to go for Holi. Holi is a colorful, musical festival. On Holi many foods are made that are really delicious. Most of our songs that we sing for Holi are from Bollywood so if you want to sing with use start watching. Last but not least bring an extra pair of clothes.
Sincerely,
Jeet