Steps to Reduce the Risk of Suffocation of Babies
Hang on for a minute...we're trying to find some more stories you might like.
In this story, I will be telling you how to reduce the risk of suffocation of babies. My niece died from suffocating and I want to make sure that it never happens to any other children. Continue reading and with only four steps you will know how to reduce the risk of suffocation. If you have any questions or need extra information, it may be a good idea to discuss your concerns with your doctor or pediatrician.
Step 1: Set up your babies crib in your bedroom but not in your bed. Your baby should never sleep with you in your bed. Not only can your child suffocate, but they could also be crushed or smothered. Most parents think that they would never roll onto their child, but with the sleep withdraw of being a parent it can happen. If you feel the need to have your child right next to you, put them in a bedside crib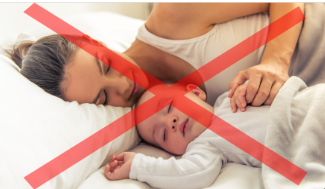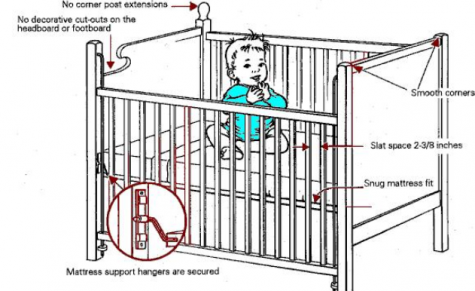 Step 2: Make sure that you buy a safe baby crib. All wood railed cribs should have slats no more than 2 ⅜" in width, which means you shouldn't be able to pass a pop can between the slats. It is best not to buy a crib with cutouts in the headboard or footboard. A baby's head could slip through the cutouts and get stuck, which could cause injury or death.
Step 3: Make sure there are no items in the crib that can cause suffocation. Keep the crib clean of any items that may cause breathing problems. Do not give your baby a pillow and do not keep stuffed animals or other items in the crib while your baby is in the crib. Only use a fitted sheet and make sure the sheet fits snugly over the mattress and that there are no broken or stretched elastic. If there is broken or stretched elastic, the sheet may slip off the mattress and get stuck around your babies face, increasing the risk of suffocation. Don't use blankets to keep your baby warm. Instead, use sleep sacks if you are not swaddling. This is the best way to keep your baby warm and safe at the same time.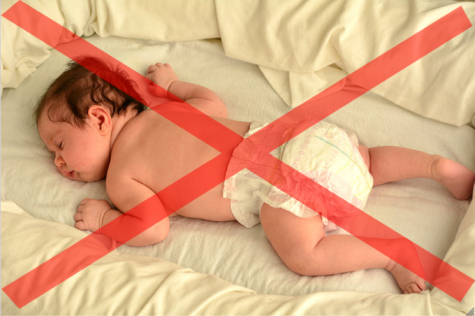 Step 4: When you put your baby in their crib place them on their back. Your baby should always sleep on its back. Very small babies do not have muscles strong enough to inhale against their own weight. They won't be able to breathe properly and may suffocate. It is vital that babies are laid on their back to sleep.
In order to reduce the risk of suffocation never sleep with your baby in your bed, make sure the crib you buy is safe, make sure there are no items in the crib that can cause suffocation and, always have your baby sleep on their back. About 1,500 children die from suffocation each year. So, make sure that you follow all the steps to prevent suffocation from happening.