Top 4 Chiefs Players Of All Time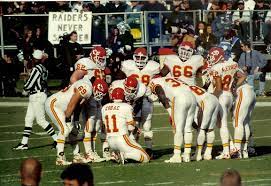 Did you know that the Chiefs originally played in Dallas and was known as the Texans in (1960-62)? The team was founded in 1960 as the Dallas Texans by businessman Lamar Hunt and was a charter member of the American Football League (AFL). In 1963, the team relocated to Kansas City and assumed its current name. The Chiefs joined the NFL as a result of the merger in 1970. This list will be about the top 4 Chiefs players.
The first person I am going to tell you about is the one we all know, Patrick Mahomes. Mahomes was born September 17, 1995, and is 25 years old. Patrick Mahomes is 6 ft 3 in and weighs 230 lb. He went to college at Texas Tech and was drafted to the NFL in 2017. An interesting fact about Patrick Mahomes is he will become the first Super Bowl starting quarterback from a university in Texas (Texas Tech). Mahomes also in just four career playoff games, Mahomes has 11 touchdown passes and no interceptions, making him the only quarterback in NFL history who currently has double-digit TD passes without an interception in his playoff career.
The next person I want to tell you about is Tyreek Hill. Tyreek is probably well known for his incredible speed. Some facts about Tyreek Hill are he has 368 receptions, 5,391 receiving yards, 623 rushing yards, 1,393 return yards, and 57 touchdowns in total. He won both the 200 meters and 100 meters at the 2012 Georgia 5A state meet in High School. Hill was the High school athlete of the year in 2012. He played football and ran track at Garden City Community College. Tyreek was born March 1, 1994, and is 26 years old. He went to college in west Alabama. Tyreek is 5 ft 10 in and weighs 185 lb. He was drafted to the NFL in 2016.
The next person I'm going to tell you about is a man who plays both football and golf. This person is Marcus Allen. Although he may not be well known, he was the RB (running back) for the Chiefs for many years. Marcus Allen played for the Raiders and he went to college at USC and was drafted to the NFL in 1982. Marcus Allen is 6 ft 2 in and weighs 210 lb. He set a Super Bowl record of 191 yards on 20 carries.
The last person I'm going to tell you about is Willie Lanier. Willie Lanier played middle linebacker for the Kansas City Chiefs for 11 seasons from 1967 through 1977. He was born in Clover, Virginia, and is now 75 years old. Willie is 6 ft 1 in and weighs 245 lb. He went to college at Morgan State and was drafted in 1967. One last fact about Willie is during his professional career, Lanier had 27 interceptions and 15 fumble recoveries Lanier retired from football following the 1977 season.
These are some of the greatest players on the Chiefs. All of them played hard and got many awards such as the Super Bowl Rings. Two out of the four people I have told you about have retired and are living their own life and all the others are on an NFL team doing their work to be the best of the best in NFL history.